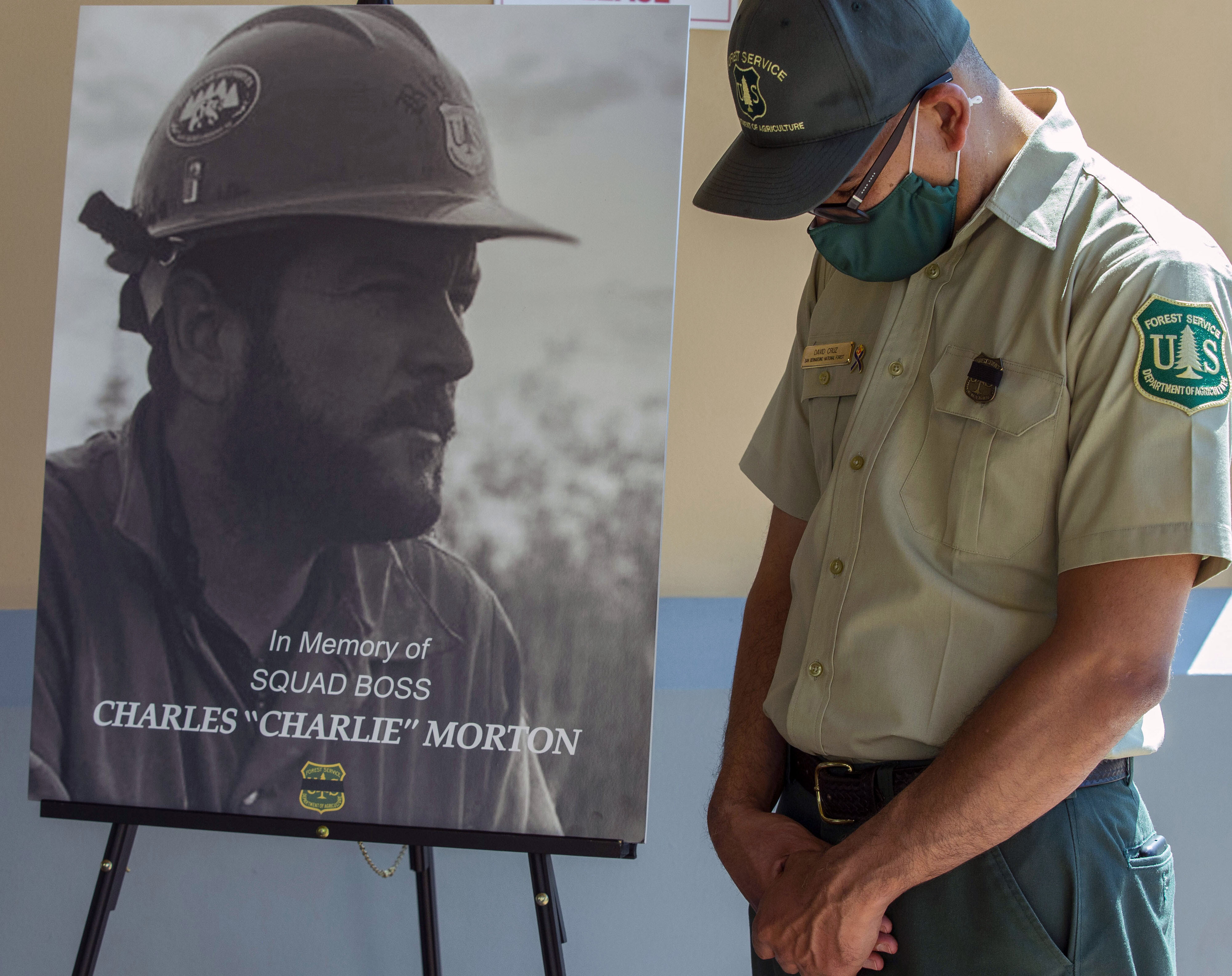 Want the best of VICE News straight to your inbox? Sign up here.
A California couple is now facing up to 30 years in prison after igniting one of last year's most devastating wildfires during a gender reveal party that left an elite firefighter dead. 
The couple, Refugio Manuel Jimenez Jr. and Angela Renee Jimenez, have been charged with 30 crimes, including involuntary manslaughter for the death of 39-year-old Charles Morton, an 18-year firefighting veteran who was serving as the Big Bear Interagency Hotshot Squad boss. 
The couple set off a smoke bomb during a gender reveal party in the drought-ridden town of Yucaipa that sparked the El Dorado Fire on September 5, 2020. The fire went on to burn nearly 23,000 acres in Southern California and injured 13 people while burning down five homes and 15 buildings, according to NPR. 
Other charges against the couple include three felony counts of recklessly causing a fire with great bodily injury, four felony counts of recklessly causing a fire to inhabited structures, and 22 misdemeanor counts of recklessly causing fire to property of another, according to county officials during a Tuesday press conference. 
The couple pleaded not guilty to the charges, and they have another court hearing date in September, according to officials. 
"You're obviously dealing with lost lives, you're dealing with injured lives, and you're dealing with people's residences that were burned and their land that was burned," San Bernardino County District Attorney Jason Anderson said at the conference. "That encompasses a lot of not only emotion but also damage—both financially and psychologically."
Anderson acknowledged that the investigation took nearly one year, which frustrated the public, especially those affected by the fire. But El Dorado's sheer size and scope of damage—particularly the loss of Morton's life while he was battling the flames—impacted the timeline. 
"Obviously, he wouldn't have been out there if this hadn't started in the first place," Anderson said. "He's fighting a fire that was started because of a smoke bomb. That's the only reason he's there."
Human-caused fires have been proven to be more destructive than naturally-sparked fires, according to the American Association for the Advancement of Science. They spread faster and threaten more homes than wildfires caused by natural events like lightning, according to the association. 
These human-caused wildfires aren't uncommon—85 percent of wildfires are caused by humans, according to the National Park Service. Last month, a suspect was arrested for arson after they allegedly sparked the Palisades Fire in the Santa Monica Mountains near Los Angeles. The fire burned more than 1,202 acres.
While individuals have caused a vast number of wildfires, spurred by negligence and the climate crisis, organizational entities are also to blame. Just last week, Pacific Gas and Electric, California's largest utility company, said their power lines may have sparked the ongoing Dixie Fire that has already decimated 61,000 acres in Northern California.  
The company is already being sued by the public for a different blaze: the 2019 Kincaid wildfire in Sonoma County, which burned 77, 758 acres.